Kane Engineering, with over 50 years' experience in the design and manufacture of Low Voltage electrical Switchgear - and in response to the demand to rapidly develop & deploy infrastructure for the EVCP (Electric Vehicle Charging) market – presents the EvoPillar™ switchgear solution. Drawing on our expertise in this sector, Kane Engineering have developed a range of indoor switchboards and outdoor feeder pillars tailored to the power distribution requirements of the EVCP sector. The system has been designed and developed with a focus on Quality, Electrical safety, installation conditions, and incorporating space saving and enhanced installation features. https://youtu.be/rCmDtfSIXnw
Please contact sales@EvoPillar.co.uk for further information and pricing.
3 Phase + Neutral Supply: 250A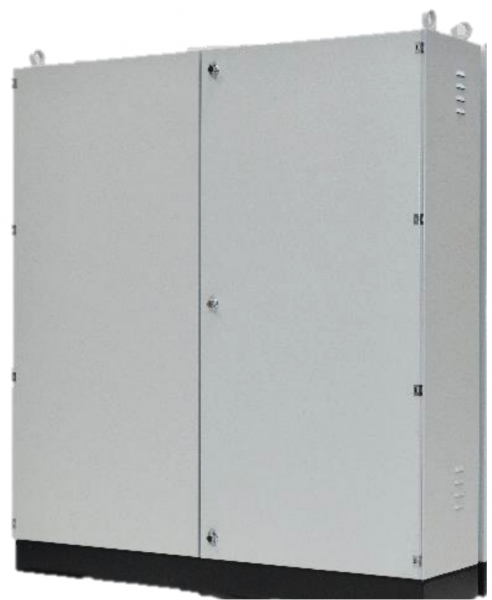 The outdoor pillar is designed to encourage airflow through the pillar to reduce heat rise in the electrical devices, while maintaining an IP 54 rating and reducing system losses.
Main Incomer: 250A
Device type: Isolator or MCCB
Rating: 7kW to 22kW (32A 3-phase)
Number of Charging Points: Up to 25 4p ways
Dimensions: (H x W x D mm) 1800 x 1450 x 400
Lock Type: 8mm Triangular
Anti-Condensation Heater: Included
Construction: BS EN 61-439
3 Phase + Neutral Supply: 250A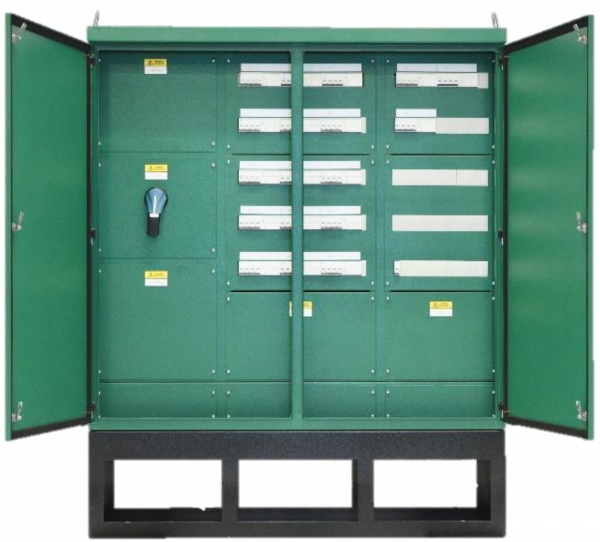 The EvoPillar™ Din standard fully integrated multi rail design can be configured to accommodate any combination of MCB's and RCBO's.
Din rail can be easily replaced with modular back plates to accommodate BMS, energy metering or other equipment such as surge arrestors. With the doors opened, devices are accessible through removable covers, ensuring maximum operator safety and service durability of the panel.
EvoPillar™ is designed with ease of installation and maintenance in mind.
Outgoing gland plate is pre punched with 25mm hole suitable for 10mm & 16mm 4C armoured cables.
All devices are prewired to terminal rail with 16mm spring loaded quick connect terminals, capable of accepting 6mm to 16mm cables.
An earth bar runs the length of the kiosk fitted with spring loaded quick connect terminals.
Access to equipment for maintenance is via removable covers.
All of our distribution pillars can be connected direct to site wide electrical distribution infrastructure or direct from the DNO network. Our EVO-DNO are designed in a back-to-back configuration, with the DNO cut-out and metering housed on one side and your EV distribution equipment on the other side, reducing the overall footprint of the installation.
EvoPillar™ CHARACTERISTICS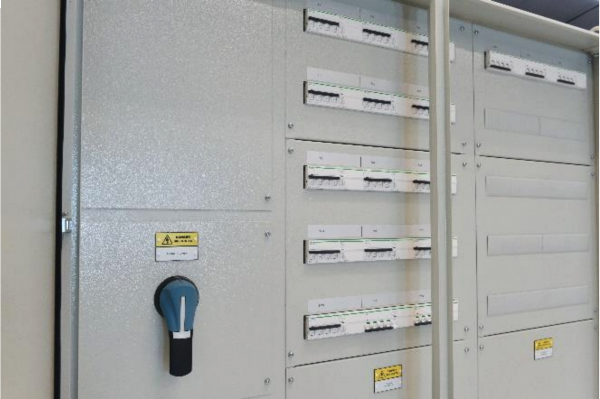 Heavy duty galvanised and painted IP55 sheet steel kiosk
Available in a RAL7035 and BS4800 14-C-39 finish
Option for stainless steel for coastal areas
Gland plates pre-punched with 25mm for cable entry
Ground mounting or root mounting options available
Incomer ratings: 250A/ 400A (Higher ratings also available)
Up to 25 x 32A 4P 30mA outgoing ways (to serve 22kW charge points)
Can be configured to allow for future expansion
Multirow configuration – easy to adapt and design to your requirements
Designed to accept din rail mounted and backplate mounted devices
All devices pre-wired to terminal rail for ease of installation
Can include the DNO cut-out & metering (back-to-back solution)
Easy access to incoming and outgoing cables
Specially designed for retail, office and warehouse car-parks environments where providing EV chargers for employees and/or customers
Provision for BMS connection & metering